The Salesforce Partner Program was named a 5-star Award-Winning Program three years in a row byComputer Reseller News.
Grow with us:
Salesforce is the fastest-growing software company in the world, and we're on our way to $50 billion in revenue in the next five years. Salesforce and its ecosystem of partners will create 4.2 million new jobs and $1.2 trillion in new business revenues worldwide.
Salesforce partners see on average 48% Y/Y growth.
90% of our customers use partner apps and solutions.
Partners lead 70% of customer implementations.
The partner ecosystem is growing: 1.3x rate to Salesforce.
What can the Consulting
Partner Program do for you?
The Salesforce consulting partner ecosystem is growing and includes companies of all sizes — from individual consultants to global consultancies. They offer customers unique expertise across Salesforce products, industries, and system integration abilities.
How Our Consulting Partner Program Is Structured
Our program enables partners to build and grow successful businesses by developing expertise and leveraging innovative tools.
The Consulting Partner Tiers are based on each partner's Trailblazer Score, which measures a partner's contribution against Salesforce-set targets across four categories: Customer Success, Innovation, Growth, and Lead.
These four categories are universal themes that remain important to Salesforce and our ecosystem year over year, and create predictability for our partners on how we evaluate and measure performance.
Customer Success
We're passionate about helping customers solve the unsolvable and reach new heights together. We help our customers achieve business value faster and work more effectively.
Innovation
Thinking differently is in our DNA. We challenge the status quo and fearlessly pursue initiatives that have the potential to influence the way the world does business.
Growth
Our sales and marketing engine will help identify, win, and grow your services business with our shared customers.
Lead
Our shared value of quality drives us to lead together by building diversity, inclusion and community impact within your organization.
Consulting Partner Benefits Overview

Tier Eligibility

BASE
RIDGE
CREST
SUMMIT
Develop & Design

Tier Eligibility

BASE
RIDGE
CREST
SUMMIT
Develop & Design
Eligible for Partner Forums
Simple and Marketing Cloud Demo Orgs

NEW!

Access to Partner Success Manager
 
 
 
Lightning CRM (Sales & Service Cloud) Enterprise Edition Licenses & myTrailhead

NEW!

2
2
2

2+

myTrailhead

Sell & Market

Tier Eligibility

BASE
RIDGE
CREST
SUMMIT
Sell & Market
Referral Fees
Access to AMP Services
Access to Digital Marketing Services

NEW!

 
Google Ads

NEW!

 
 
 
Designated PAM*
 
 
Service & Support

Tier Eligibility

BASE
RIDGE
CREST
SUMMIT
Service & Support
Case Packs
2
5
Unlimited
Unlimited
Free Certification / Exam Vouchers

NEW!

3

5

10

15

Training & Bulk Voucher Purchases
15%
20%
25%
30%
Partner Advisory Board Eligibility
 
Faster Technical Support Response Times
 
 
Our partners say it best.
"There's a reason why there is such a community of people, all around the world, passionate about Salesforce... It's the best in the world enterprise platform, and it's actually fun to learn."

Aymeric Zito
CEO
ProQuest Consulting
Valuable Resources
Consulting partners gain access to valuable resources to build their Salesforce practices and take full advantage of the massive opportunities provided by the Salesforce economy. Below you'll find a wide range of tools and benefits that drive success and growth.
Onboarding Resources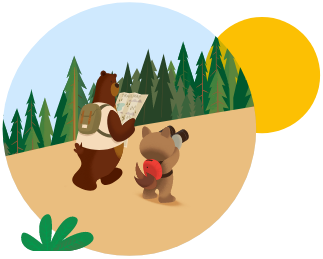 Business Planning
Every great Salesforce practice starts with a focus. Your focus can be any product or industry covered by Salesforce and should be based on your domain expertise. Once you have a focus and create your business plan, one of our Partner Advisors will review it with you to help you achieve your goals.
Partner Trail Guide
After you become a Salesforce partner and are oriented to our program and ecosystem, Partner Trail Guides are available to answer questions and help you move forward.
Talent Alliance
Talent Alliance connects partners to Salesforce candidates and brings new talent into the ecosystem, emphasizing building a diverse workforce that reflects society around the globe.
Partner Learning Camp
Partner Learning Camp is the premiere learning destination to help Salesforce partners deliver customer success by expanding capabilities to meet customer needs now and in the future.
Demo Orgs
Partners can access specific product demonstration orgs for internal hands-on training, development of potential solutions, demos, and customer specific proof of concepts. Demo Orgs are a quick and easy way to show your customers (and employees) the basics of what products across our core portfolio can do.
Digital Marketing Programs
Consultants on AppExchange
The AppExchange is a unique marketplace for customers to find partners and solutions that can accelerate their business. Consulting Partners create a dynamic listing on the AppExchange to share their Salesforce distinctions, Navigator expertise, and customer reviews with millions of customers.
Digital Marketing Curriculum
Customized digital marketing curriculum found only in Partner Learning Camp. Build your digital marketing capabilities with 10 new courses available including powerful skills like Data Management & Analytics, Virtual Events, and Account-Based Marketing.
Partner Marketing Center
The single place to find over 500 self-serve marketing assets on our core products and industries. With simple navigation, you can quickly access content relevant to your go-to-market needs and marketing objectives.
Digital Marketing Services
Digital Marketing Services is based on Agency Marketing support that is centrally managed and customizable, aligned to Salesforce big bets. It is designed to help fill your resource gaps, align your unique value proposition and thought leadership to Salesforce campaigns, and drive more customer engagement and joint success.
Salesforce Values: Let's make the world a better place, together.
Your destination for a connected partner experience is the Salesforce Partner Community. The Partner Community is a common platform, equally accessible for all partners, regardless of where they are in their partner lifecycle, that aims to empower partners with the technology, educational and management tools necessary to build success. It is your destination to continuously learn, grow, innovate, and lead throughout your partner journey with the world's #1 CRM company.
Frequently Asked Questions
Become a Salesforce partner.
Explore our Partner Program.